Floor Plan & Home Measurement Services
Having worked in the appraisal industry since 1998, we often see differences between the gross living area that the county has on record and what an appraiser has measured for a home. While most of the time the gross living area is relatively similar for single story homes, there have been many times that significant differences are noted.

The most noted differences include:

Sunrooms or other type additions that have a lower quality of finish than that of the main dwelling. These type areas should not be included in the gross living area, however should be valued separately than the main dwelling due to the lower quality of construction. Items such as windows, exterior finish materials, roofing materials and interior finish should be the same quality of construction as the main dwelling.
Garage conversions, where a portion of the garage or entire garage has been converted to enlarge a kitchen or utility room, or add additional living area. The quality of finish also needs to be the same quality of construction as the main dwelling.
Attic areas that have been finished.
Unfinished bonus rooms at the time the home was built, which have been since been finished out.
Homes that have numerous curves and/or angles. The software that the county utilizes is not as detailed as the software that most appraisers use. The county records often round to the nearest foot, while appraisers typically round to the nearest inch or 1/10 of a foot. The county's software most often does not allow drawing of angles or curves, where the appraiser's software does, which can make a difference at times in the gross living area.
Many times the builder plans that are submitted for construction have been altered after submission, extending a wall further out or even adding an additional room.
Why gamble with the square footage when listing a home when you have all these variables to consider?


Who can benefit from having a Floor Plan or Home Measurement Service performed?
Realtors


Protect yourself by having an accurate gross living area to report on your listing.

The cost of the sketch may additionally be tax deductible as a business expense.

Avoid finding out later that the home you listed is smaller in gross living area than what the tax records have listed, which could result in a lower appraised value.
Avoid loosing money for you and your sellers due to gross living area coming in larger than what the tax records have listed.
Homeowners
If listing you home "For Sale by Owner" it helps to have an accurate gross living area to report, which will help in a smoother process of selling your home.

You can additionally utilize our

home measurement services (or a past appraisal sketch) if the county has your home reported larger on the tax records than what the appraiser has measured, which can result in a lower assessed value and lower taxes.

Home Measurement Services start at $150 for most homes.
Floor Plan Services start at $175 for most homes.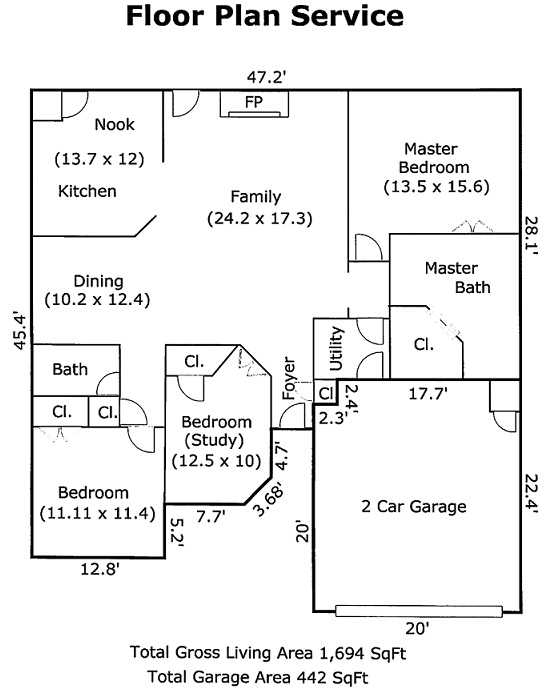 Call us at 817-809-2200 or email us today at info@dedicatedappraisals.com for further details about our services or to schedule a time for our Home Measurement Specialist to come out and perform our floor plan or home measurement service.